Jobs & Internships
Events, internships, apprenticeships, and jobs are listed here. 
TLC Plumbing and Utility Career Day
Saturday, April 1, 2023
7:00 AM to 2:00 PM
At 5000 Edith Blvd NE, Albuquerque 87107
RSVP to attend by texting TLCCareers to (888) 702-2825
Or e-mail training@tlcplumbing.com
Or call (505) 449-5580
Construction Career Expo
Intel, Meta, and Sandia National Laboratories are sponsoring the Construction Career Expo, which will take place at Sandia Resort & Casino on Thursday, April 6 from 11:00 am – 3:00 pm. There will be both large and small contractors in attendance – with excellent career opportunities for UNM students. There are construction management careers, engineering/architect careers, as well as management, HR, admin., business development, accounting, etc. positions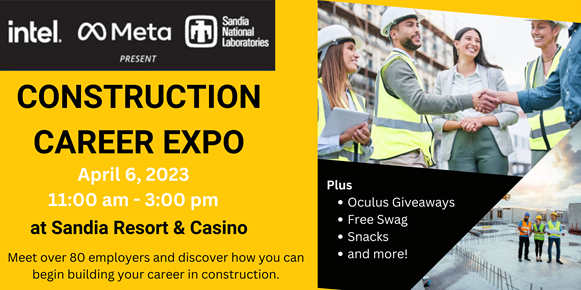 2023 Health Professions Symposium
April 15, 2023 at UNM-Albuquerque in the Student Union Building
Students interested in health professions are invited to participate in a day of workshops.  An opportunity to explore your passions and discover pathways into the field of your choice.  More information and registration available at https://hps.unm.edu/.
Wagner Heavy Equipment Apprenticeship Program
A paid apprenticeship to train in diesel mechanics is available through Wagner Equipment Co.  Program begins in August.  If you are interested, please email Sarah Clawson (sjclawson@unm.edu).
NM SMART Grid Center STEM Advancement Program (STEMAP)
STEMAP 2023 will be a virtual 8-week summer internship engaging students from New Mexico regional universities, community colleges, and tribal colleges in NM SMART Grid Center research and training activities. Benefits: $4k stipend, living allowance, and 3 credits of independent study.  Learn more.
Virtual Suit-Up Event
UNM Career Services partnered again with JCPenney's on our biannual Virtual Suit-Up event! 
From March 24 through April 30 – you can shop online for an EXTRA 30% off career clothing – including shoes and accessories!
 Just text UNM to 67292 to receive the EXTRA 30% off coupon.
You can use this coupon until April 30.
 To preview what is available for this offer:  https://www.jcpenney.com/m/suit-up-view-all
 All students, faculty, staff and alumni may participate in this great event!
Legal Assistant Wanted
Busy law firm seeking to hire a dependable Spanish speaking legal assistant who has good research and writing skills. Duties to start would include answering phones, scheduling doctors' depositions, drafting letters and documents, scheduling, and client assistance but duties would grow with the applicant's willingness to take on more challenges and learn more about working in the legal profession.  Salary is dependent on experience but would not be less than $15.00 per hour plus bonuses.  Three weeks flex-time off per year.  401K after 1 year. No medical or dental at this time. Must have good writing and communication skills.   Email Michael Doyle at mikedoyleatty@gmail.com if interested. Please provide a writing sample and references.  Full time is preferred but we are willing to work with students around their schedules if the qualified applicant needs a flexible schedule.
Michael J. Doyle, Esq. 
505-565-9045 
---
You can also access reliable job listings at:
A free resource for everyone in the UNM community.  Employers can upload positions here and students can upload a resume and search jobs and internships.
New Mexico's Department of Workforce Solutions lists all jobs posted through their agency on this website.  Registration may be required to apply for some jobs.
New Mexico state jobs are posted here.
Federal government jobs and internships are posted here.
A central location for all New Mexico employers to post internship opportunities and find students to fill them.  High school and college students can look here for internships.