Canvas Info
It is Canvas time!
All classes are now taught in Canvas, but faculty still have access to UNM Learn (learn.unm.edu) to see your old Learn courses and use them as support for your new Canvas builds. This access will end August 2023.
---
Canvas Support:
---
Getting Started with Canvas:
To get started, log into https://canvas.unm.edu. If you are already logged in to UNM systems via Azure AD (LoboMail, UNM Learn, UNM Zoom, Office 365, etc.) you will automatically be logged into Canvas.  
From the Global Navigation along the left, click Help > Training Services Portal

. 

Click Authorize

.
---
Temp & Sandbox Courses:
The purpose of a
Temp Course
is for developing a specific course you plan to teach in the future, but do not have access to yet in Canvas. Temp Courses are named after the term you plan to teach that course (e.g., Temp Fall 2022 – ENGL-1120). Temp Courses cannot have students enrolled. They are strictly for developing content to later be copied into your real course from Banner once it's in Canvas. Temp Courses will end two weeks after the end of the term. So for example, the full Summer 2022 term ends 8/1/22, so the end date for the Summer 2022 Temp Courses will be 8/15/22. At that point, they'll move to 'Past Enrollments' on your All Courses page and become read only, but they can still be copied. Temp courses from older terms may eventually be removed from the system, but that will be announced in advance.
Request a Temp Course here. Please review all the information on the form. You will be asked for the term you plan to teach the course in and the course's subject and course number (e.g. ENGL-1120).
Canvas Training:
See UNM Canvas Training page.



UNM ABQ Center for Teaching & Learning is offering multiple week-long workshops called "

Bridge to Canvas

". It is highly recommended to take this free workshop at some point this semester, ideally the 1st half. Here is info from the CTL website:


Details for Bridge to Canvas:

This week-long course (Wednesday to Wednesday) will be an orientation to Canvas at UNM. By the end of the course, instructors will be able to locate, create, and manipulate content in UNM Canvas. The course will be facilitated by an instructional designer and there will be an optional synchronous meeting. Synchronous meetings will be held on a Monday (see options below) and will be recorded. Instructors enrolled in the course will be able to post questions ahead of the meeting, as well. You'll receive a reminder email the day before the course begins. If you have any questions about your registration, please contact Raquel Gallegos (rlopez03@unm.edu). Note: This course offering is dependent on Blackboard migrated course content and Canvas temporary shells being available. If those are not available by your chosen start date, we'll reach out to you to get you rescheduled to a later session. Register here: https://ctl.unm.edu/instructors/support/workshops/index.html
In order to help with the transition and for instructors to have time to prepare for the use of Canvas for Summer and Fall 2022 courses, UNM has acquired a training package from Canvas. The package includes access to the

 

Canvas Training Portal, which consists of live training webinars and self-paced courses instructors can take to learn and explore all Canvas has to offer.


Accessing the Canvas Training Portal
1. To get started, log into https://canvas.unm.edu.

2. From the Global Navigation bar along the left, click Help > Training Services Portal.
Note: If you do not see this option, please fill out and submit the Sandbox Request form to help us update your role in Canvas.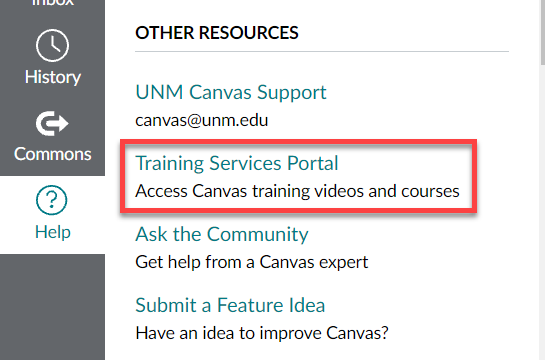 3. Click Authorize.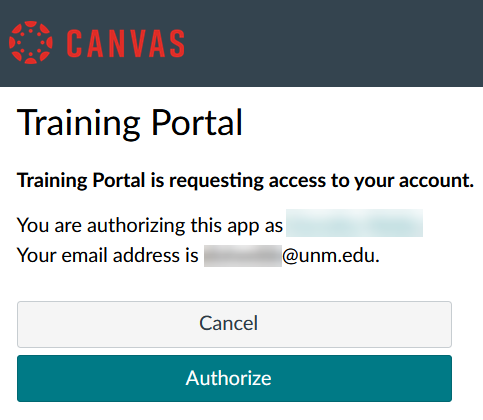 ---

Recommended Trainings
The Training Services Portal is organized by sections. Live Trainings, Programs and Courses.
Live Trainings
A couple of things to know:
• The calendar used to register for webinars displays MDT (Denver time), but the email reminders are in ET (New York time).
• To attend live trainings, you must go to
https://canvas.unm.edu
and log in before clicking the Zoom link in your email reminder.
 
If you are looking for a place to start, try some of the sessions listed below.  Note: For quiz/assessments trainings, Canvas is in the process of rolling out a new Quiz tool, New Quizzes, to replace Classic Quizzes. For more information, see our Transition to New Quizzes page.
Content Pages
Home Pages
Assignments
Classic Quizzes: Quiz Basics
Classic Quizzes: Managing Quizzes
New Quizzes: Creating Assessments with New Quizzes
New Quizzes: Managing Assessments with New Quizzes
Gradebook and SpeedGrader
Course Communication Tools
Course Design Considerations
Canvas for Performance-Based Teaching
Accessibility
Higher Ed Programs - Instructors and Support Staff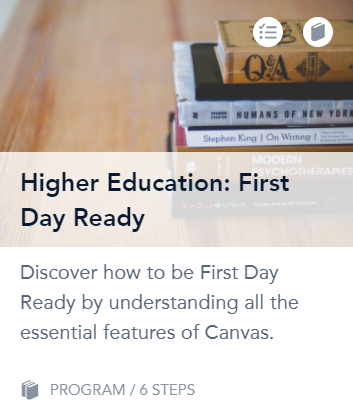 We recommend "Higher Education: First Day Ready" for an introduction to all the essential features of Canvas. It is self-paced and offers videos on the basic tools and processes you will need to be successful. The program consists of several "steps" that cover how to:
Customize your Account Notifications
Personalize your Canvas Dashboard and Course List
Use the Calendar, Announcements and Conversations
Set up a course with a Homepage and Modules
Customize Course Navigation
Use Student View
Create Assignments, Discussions and Quizzes
Use the Gradebook and provide feedback
From the Learning Library landing page, scroll down to Higher Education Programs > View All.
---