Transfer Support

UNM-Valencia Science, Technology, Engineering, Math and Health (STEM-H) students who are interested in pursuing a bachelor's degree or higher must transfer to a 4-year college. To do so, students must meet entrance requirements, deadline dates, and apply to their college of choice. Should the choice be
University of New Mexico (UNM-Main) in Albuquerque, NM
New Mexico Institute of Mining and Technology (N.M. Tech) in Socorro, NM
New Mexico State University (NMSU) in Las Cruces, NM
additional transfer support is provided.
REMINDER

:  UNM-Main Transfer Scholarship

Any student interested in transferring to UNM-Main campus in Spring 2021 must be admitted by October 1st to be eligible for transfer scholarships! Contact your Academic Advisor for support completing the application for transfer admission!

Check out the support items below!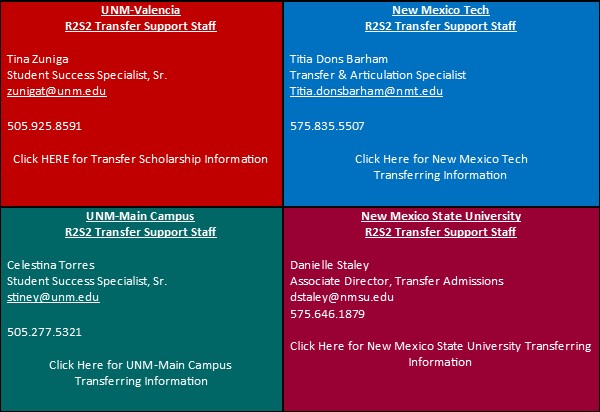 Fall 2020 Transfer Events
Virtual Walk In Advising - Flyer
Virtual walk-in transfer advisement will take place on Mondays & Tuesdays from 1 pm to 3 pm via Zoom.
Virtual Campus Walkabouts
Walkabouts are personalized visits to the UNM-Main, N.M. Tech, and NMSU campuses sponsored by the R2S2 staff. Students are provided free transportation and lunch at Walkabout events. Students who attend will meet with:
current students
an academic advisor
and will learn about:
Financial Aid
Scholarships
Jobs on Campus
Research Opportunities
Support Services
Fall Virtual Walkabout Dates
UNM-Main Walkabout – September 25
New Mexico Tech – October 2
New Mexico State University – Octobe
UNM-Health Sciences & Nursing – October 23
Virtual Sophomore Success Day - More Info

This Fall's Sophomore Success Day is a virtual event targeted to current UNM-Valencia students who have earned 45+ credit hours and are interested in learning more about the next steps to take to complete a bachelor's degree. This event includes information about:
Graduation
Bachelor Degree options
Financial Aid
Scholarships
Future Options
This event includes representatives from UNM-Main, New Mexico Tech, and NMSU.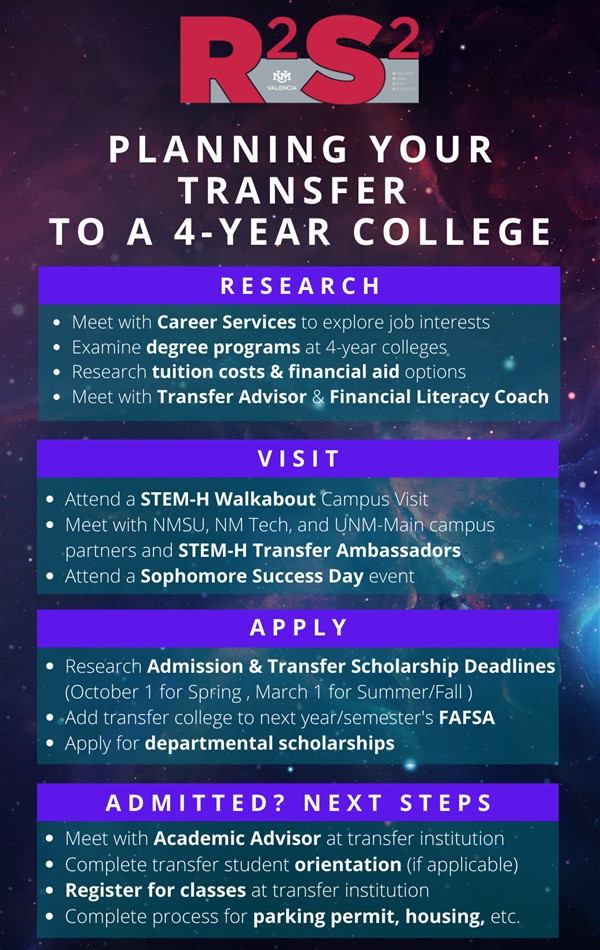 Contact Information
For support with transfer planning, email r2s2@unm.edu or call 505.925.8591.