STEM League Student Club
Spring 2021 STEM League Virtual Meetings Via Zoom - All Majors Welcome
Wednesday, February 10 from 2 to 3 pm
Wednesday, February 24 from 2 to 3 pm
Wednesday, March 10 from 2 to 3 pm
Wednesday, March 31 from 2 to 3 pm
A STEM League Student Club Special Edition Newsletter - August 2020
A STEM League Student Club Special Edition Newsletter, published in August, highlights responses to a 5-question survey completed by students, faculty and staff, articles focused on COVID-19 and tips for maintaining well-being during the COVID-19 pandemic.
Mission
The STEM League Student Club (STEM League) invites UNM-Valencia students, all majors, to join the League to gain service and leadership experience and to learn about Science, Technology, Engineering, and Math (STEM). The STEM League seeks to:
identify and create service and leadership opportunities for students which foster teamwork and professionalism
identify and create opportunities which broaden students' understanding of STEM
expose students to opportunities which enrich the STEM learning experience
support and participate in UNM-Valencia' annual Earth Day (April 22) celebration
Join the STEM League Student Club
To join the STEM League or to find out about meetings, email stemleague@unm.edu
STEM League Officers
Officers are elected each academic year and hold office from the Fall semester through the Summer semester, with new officer elections held at the beginning of each Fall semester.
Faculty Advisors
Victor French, Lecturer II in Science and R2S2 Undergraduate Research Coordinator
Dr. Ben Flicker, Assistant Professor of Biology
2019 to 2020 Officers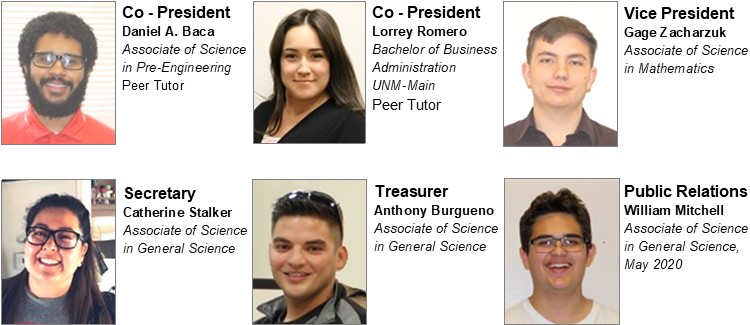 Our Stories by STEM League Officers

Spring 2020 STEM League Meetings