STEM League Student Club
Current Project - need students to complete a questionnaire.
UNM-Valencia students are requested to complete a Questionnaire created by Will Mitchell, Public Relations Officer for the STEM League Student Club. Students can email the completed questionnaire to wmitchell1@unm.edu by Friday, July 17.
A STEM League Student Club Special Edition Newsletter will be published in late July or early August and will include the responses to the questionnaire. The newsletter will focus on the science of the how students are responding to, or coping with, the changes created by the school closing and classes going to an online format, the stay-at-home order and social distancing, and how the science of the virus, its novelty, have contributed to the decisions that have changed so many lives. Completing the questionnaire will provide insight into how students are doing and highlight helpful strategies for coping with the changes brought by the COVID-19 pandemic, specifically, how shifting to online classes has affected students' academic pursuits.
Mission
The STEM League Student Club (STEM League) invites UNM-Valencia students, all majors, to join the League to gain service and leadership experience and to learn about Science, Technology, Engineering, and Math (STEM). The STEM League seeks to:
identify and create service and leadership opportunities for students which foster teamwork and professionalism
identify and create opportunities which broaden students' understanding of STEM
expose students to opportunities which enrich the STEM learning experience
support and participate in UNM-Valencia' annual Earth Day (April 22) celebration
Meetings
Prior to the COVID-19 Pandemic restrictions in March, 2020, one-hour meetings were held twice a month. Currently, STEM League meetings are held via Zoom and are scheduled per the Faculty Advisors' availability.
Join the STEM League Student Club
To join the STEM League or to find out about meetings, email stemleague@unm.edu
STEM League Officers
Officers are elected each academic year and hold office from the Fall semester through the Summer semester, with new officer elections held at the beginning of each Fall semester.
Faculty Advisors
Victor French, Lecturer II in Science and R2S2 Undergraduate Research Coordinator
Dr. Ben Flicker, Assistant Professor of Biology
2019 to 2020 Officers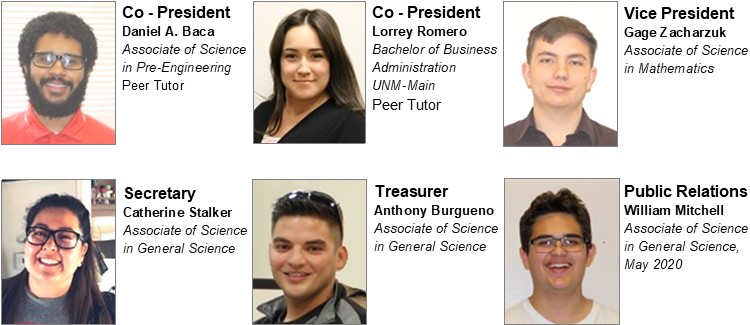 Our Stories by STEM League Officers

Spring 2020 STEM League Meetings